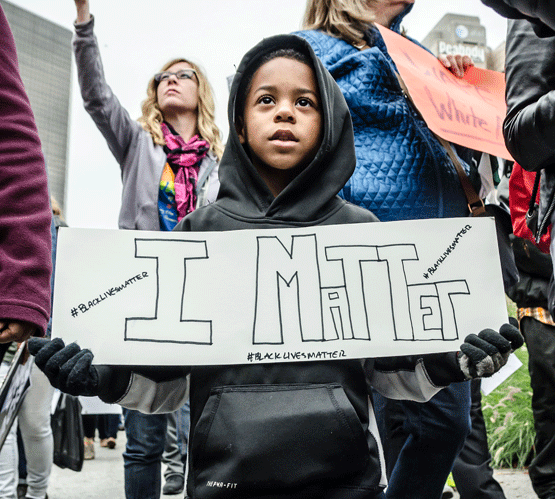 It has only been a week since the grand jury in Ferguson returned the decision not to indict Darren Wilson, but it has felt much longer than that.
I've been shooting these articles and posts out on Twitter and Facebook over the last couple of days, but for my own sake of remembering and in case you all missed some of them, I've gathered what I have thought to be particularly important and informing.

Not just about Ferguson:
First off, this is not only about Ferguson, about what Darren Wilson could or should have done (not done), or what Mike Brown was doing or had done.  It is not that these are irrelevant, but to focus only on these is to miss the forest for the trees.
For a terrible example of this forest from Nov. 22nd (two days before the grand jury decision): Cleveland Police Shoot 12-Year-Old Tamir Rice Within Seconds of Arriving on Scene  (For more, see this editorial)
And more generally, 3 High-Profile Cases of Black Men Killed by Police, Still No Arrests—Why?

The Only Thing to Ponder:
If you don't read anything else (which you should), please this about "racial bias" and how we need to stop feeling guilty and defensive, even while understanding the responsibility: The new threat: 'Racism without racists'

As a Follower of Christ:
Advent/Darkness (by Christena Cleveland)
Let #Ferguson Prepare Us For This Season Of Advent (by David Bailey)
Also, An excellent biblical reflection for those who call Christians to just trust the system and respect the judgment: Honor the Outrage: A Reflection on 1 Corinthians 6 and the Ferguson Grand Jury Decision
I Don't Know Nothin – A post #Ferguson post. (by David Fitch)

About the grand jury:
Justice Scalia Explains What Was Wrong With The Ferguson Grand Jury
If you want to really look into the Grand Jury then see: Ferguson Documents: How The Grand Jury Reached A Decision

Also,
#Ferguson in Pictures
Lastly, my previous posts related to Ferguson:
GRIEVING FOR FERGUSON AND BEYOND
DEEPER THAN WE THOUGHT (1): OUR SOCIETY'S SIN
DEEPER THAN WE THOUGHT (2): THE COLORBLIND RACISM