Here is the complete series: 1, 2, 3a, 3b, 4, 5, 6.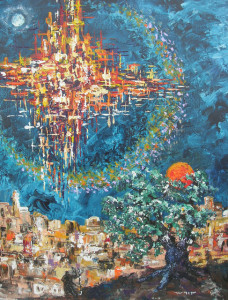 On Sunday we started new class on "God with Us: Being the Temple for the World"
I know that not everyone at Life on the Vine could make it, and perhaps others on the inter-webs might be interested, so I'm going to try and write up quick summaries of each class.
We started with the question of "What does the phrase 'God with us' make us think about it"?  Answers ranged from this being a comforting promise to it being a truth that can seriously let us down.  Is God 'with us' in our ideas, opinions, our community, the world?  And really, how, when, and where is God 'with us'?  Is "GOD with us" or "God with US"?  And what does this have to do with "salvation", and "eschatology", and all those other theological words?
God With Us
After this discussion I began to set the terms and outline for the class.  The first is "God with us."
When we look at Matthew's Gospel we see an angel of the Lord come to Joseph and tell him not to put away Mary for the child was from God.  Matthew then tells us that "All this took place to fulfill what had been spoken by the Lord through the prophet: 'Look, the virgin shall conceive and bear a son, and they shall name him Emmanuel,' which means, 'God is with us'" (Matt. 1:23).
This statement, Emmanuel, God with us, sets the tone for God's work in Jesus, that now in a new way God is going to be with humanity.
And we see this confirmed at the end of Matthews Gospel:
Now the eleven disciples went to Galilee, to the mountain to which Jesus had directed them. When they saw him, they worshiped him; but some doubted. And Jesus came and said to them, "All authority in heaven and on earth has been given to me. Go therefore and make disciples of all nations, baptizing them in the name of the Father and of the Son and of the Holy Spirit, and teaching them to obey everything that I have commanded you. And remember, I am with you always, to the end of the age. (Matt. 28: 16-20)
In a sense, Matthew is telling us that God's work of salvation is not so we can be with God "up" in heaven some day, but that God desires to be with us on earth everyday.
At the end of Revelation we hear of the New Heavens and the New Earth (as one).  A voice declares: "Look! God's dwelling place is now among the people, and he will dwell with them. They will be his people, and God himself will be with them and be their God" (Rev. 21: 3).
Heaven and Earth
This allusion to Revelation leads us to our second guiding term, or terms: Heaven and Earth.
Just think of the Lord's Prayer: "Our Father, who are in heaven, hallowed by your name. Your kingdom come; your will be done; on earth as it is in heaven."
Jesus understands the work of prayer, indeed, the work of God, to be that of bring God's kingdom rule and kingdom will from heaven down to earth.  These are not mutually exclusive terms, but rather ones that are separated for a time but being slowly brought back together.
The question for this class is "Are there other places, other ways of heaven coming to earth?" beyond just Jesus in the incarnation and the final end, or the finalé, of all creation?
Place, Person, People
The answer is emphatically yes, that God has been and will be "with us" in different ways.  In the following classes we will broadly look at three ways that God has been with us.
First, God's presence was principally located in a Place, the Temple of Israel.
Second, God's presence was principally located in a Person, Jesus the Son of God.
Third, God's presence was principally located in a People, the Church,  new Temple.
But before we get to all this, we are going to start with Genesis 1 and 2 and ask if we can see God's presence dwelling with humanity at the very beginning and what this might mean for the rest of the story.
So this Sunday we'll be talking about Genesis One.
---
Here is the complete series: 1, 2, 3a, 3b, 4, 5, 6.