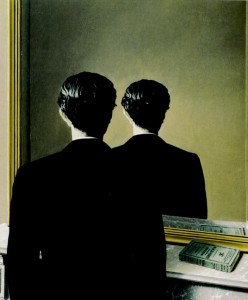 He most identified with the picture to the left.  For the season of Lent, one of our artists here at Life on the Vine constructed a wall separating us from the altar, and on the top was a giant sign saying, "Separate."  On the wall hangs four pictures indicating various ways of being separated: a storm, an abandoned woman, a shipwreck, and this painting by surrealist Rene Magrite (La reproduction interdite, French for "The Forbidden Reproduction").
This is the picture that one of our youths preparing for baptism most identified with at this point in his spiritual journey.  He felt like he could never see himself, that he couldn't understand himself, didn't know why he acted the way he did.  We prayed for a while that Christ would help him to see his own face, and see it in the face of Christ.  It was really the only breakthrough I've had with this boys who feels abandoned and broke, struggling with Aspergers (which results in his acting out), disconnected from God.
Like this painting, the season of Lent calls us to look deeply at ourselves, but often the first step is to recognize that often we can't even really see ourselves.  We look into a mirror and all we see is the back of our heads.  And this is frequently a result of our own choosing because we are afraid of what we might see.  Augustine says of God's work in his life:
You took me from behind my own back, where I had placed myself because I did not wish to look upon myself.  You stood me face to face with myself, so that I might see how foul I was, how deformed and defiled, how covered with stain and sores. (Confessions, VIII, 7)
Only the Spirit of Christ can take us "from behind our own backs" and place us before ourselves.  Will you, this Lent, seek to see yourself as you really are, deformed and defiled, so that you might be seen as you are in Christ, healed and holy?