Our faith bogs down when we don't know who God really is.
Sometimes we think God is so distant that he can't make a differences.  Or we think God is so vaguely everywhere that God is really nowhere at all.
But we need to hack these understandings of God, take what is good, get rid of what is not, and see that God is more and better than merely distant or vaguely everywhere.
A Distant Star?
A neighbor once asked me, "When you think about God, do you get a picture of an old man behind a desk running the universe?"
Have you ever thought that? Many of us have from time to time.
God is in charge.  God is in control.  God is important.  And in charge,  in control, important people tend to sit behind a desk.
And certainly the Bible tells us that God is sovereign over all things, that God is high and lifted up, that his ways are higher than our ways.
It's like God is a distant star hanging in the heavens.  If we look up at God as we drift along the ocean of life then hopefully we can navigated by God's distant light.
The Distant God
On the one hand we should affirm that God is in charge and in control.
But on the other hand, when the storms of life come, rocking our little boats back and forth, the "Distant God" provides little comfort in our terror.
This view of God can't fill us with a "living hope" (1 Peter 1:3) if he is so far away. Our faith easily becomes resigned and withdrawn. Our hope becomes shallow and depressed when God is so distant.
The Enveloping Cloud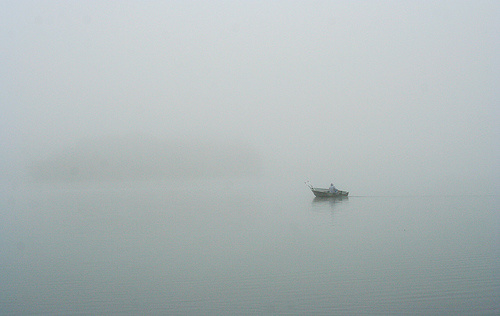 In response to the "Distant God" we can over-compensate and think that God is everywhere all the time. We image that God is in everything, working through anything.
God is not a distant star. God is an enveloping cloud. God is close enough to touch, taste, and feel at every moment in life.
Floating on the ocean of life we don't need to look up to the heavens for a guiding star.  God is all around we, tell ourselves. God is everywhere.
God is nowhere
Again, it is true that God is everywhere.  "Where can I go from your spirit? Or where can I flee from your presence?  If I ascend to heaven, you are there; if I make my bed in Sheol, you are there" (Ps. 139:7-8).
But claiming to see God everywhere can obstruct our ability to distinguish the illuminating work of God from shadowy semblances.  This kind of thinking, when absolutized, fails to distinguish good from evil in the world.  It can become wishful thinking that just looks away from pain, hurt, or suffering.
The Gracious Gash in the Universe
Our faith needs to hack these two understandings of God. We need a better way of understanding who God really is.
God is not just distant.  And God is not just everywhere.
The truth is, God is coming to us. As Joshua Ryan Butler says, God is a pursuing God.

Let's just look at the baptism of Jesus.
As Jesus was coming out of the water, he immediately sees the heavens torn apart and the Spirit of God descending on him like a dove. And a voice came from heaven: "You are my beloved Son; with you I am well pleased."
The Heavens Torn Apart
In the Bible, the tearing of the heavens meant God was coming down to save his people. "Oh that you would rend the heavens and come down" cries Isaiah (Isaiah 64:1).
With the appearance of Jesus God is not distant. God is not an abstract entity off in space somewhere. God is coming down to us in Jesus, right now.
The Spirit Descended on Him
Just as the Spirit of God hovered over the waters of creation, now the Spirit hovers over the one emerging from the waters of the Jordan, the one who will confront chaos and darkness. 
Through Jesus God is beginning a new work of creation, tearing open a new possibility for a wandering and estranged world.
It is as if
God has ripped the heavens irrevocably apart at Jesus' baptism, never to be shut again. Through this gracious gash in the universe, he has poured forth the Spirit into the earthly realm."
(Joel Marcus, Mark 1–8, Anchor Yale Bible, 165.)
Faith Hack: The God who comes to you
Can we hack our understanding of God to make room for the God who comes?
God is not merely distant. God is not merely everywhere.  God is coming to you.  And God is coming to rescue you where you are, to bring new creation right where you are.
God coming to us is not merely as aspect of who God is. It is the defining characteristic of God. God always longs to be present and intimate with his people, with you.
As John 3:16-17 says,
For God so loved the world, that he gave his one and only Son, that whoever believes in him shall not perish but have eternal life.  For God did not send his Son into the world to condemn the world, but to save the world through him.
How would your life of faith be different if you believed God is coming to you right now? Can you hack your faith to make it work better?
Don't miss the other 4 "faith hacks" coming out the next couple of days. Subscribe and receive a free gift about how God's glory and holiness doesn't mean God hates us.
---
 If this post has been helpful or thought provoking, please consider sharing it. And please subscribe. Thanks.